Start: Moose Ponds

Finish: Blackstone Territorial Park

Length: 22 days (19 river days)

Distance: 600 km (373 mi)

Elevation Loss: 928 m (3045 ft)

River Class: 2/3

Craft: Canoe

Skill Level: Intermediate/Advanced
A South Nahanni River whitewater canoe expedition from its source in the Moose Ponds is a must do for any experienced paddler/canoeist. This trip takes place on the traditional territory of the Sahtu and Naha Dene and explores the entirety of the Nahanni River beginning in the newly formed Naats'ihch'oh National Park Reserve at the foot of the stunning Mt. Naats'ich'oh.
Participants will be thrilled with the whitewater of the Rock Gardens and the stunning mountain scenery of the Sapper and Ragged Ranges. Additional highlights include Rabbitkettle Lake and tufa mounds, pristine mountain scenery, awesome Virginia Falls, four grand canyons, hot springs, wildlife, hiking and the opportunity to create the "memories that will last a lifetime" with our experienced guide team.
The Moose Ponds whitewater canoe trip appeals to active people who are looking for a guided, canoe tripping adventure. Canoeing is by its nature a participatory experience, and our guides will help those with an interest to further develop their skills both on the river and in camp. Participants should be prepared for three weeks of wilderness camping, be reasonably physically fit and confident swimmers. They should be able to portage personal and group gear around Virginia Falls. Participants should be experienced whitewater canoeists in tandem canoes. Wilderness camping experience is also required.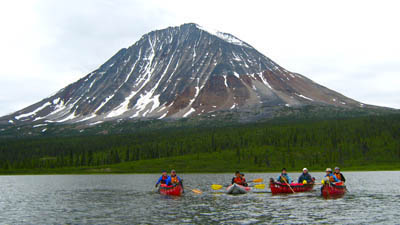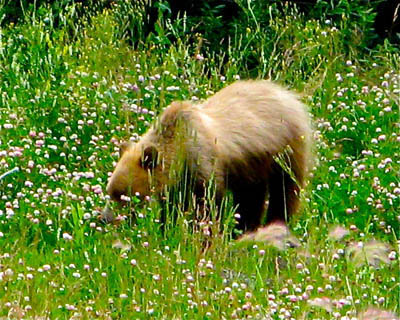 We have added special features to each of our trips to enhance your experience.
On our Nahanni Headwater Mooseponds 22 Day whitewater Canoe Trip we provide:
Whitewater prep day on Trout River

Bare wetsuits provided at no extra charge - safety first

Screened dining tent- keep mosquitoes at bay on early season trips

Grey Owl wooden and Werner Bandit curved blade paddles- we provide the best paddle on the Nahanni.
View the "Nahanni Wild Advantage"
If you have any questions regarding this trip please contact us info@nahanniwild.com
Toll free number CANADA and USA
1-888-897-5223
Callers from outside North America please dial
1-403-688-7238