Start: Divide Lake

Finish: Blackstone Territorial Park

Length: 22 days (19 river days)

Distance: 440 km (273 mi)

Elevation Loss: 950 m (3117 ft)

River Class: 2/3

Craft: Canoe

Skill Level: Intermediate/Advanced
Our Nahanni Headwaters trips include the headwater tributary the Flat (whitewater boiling ) River. This three week trip explores the entirety of the Flat River, and the Nahanni River's three lower canyons, the Splits and the Liard River to Blackstone Territorial Park. You will travel through the traditional territory of the Naha Dene.
The highlights of this trip include road access which makes the Flat River your most affordable Nahanni River trip. The Flat River is ironically named as it offers the most class 2 to class 3 whitewater of all the Nahanni's headwaters. Along the way we explore pristine mountain scenery, the Flat River Canyon known as The Cascade of Thirteen Steps and the historic points of the Nahanni Gold Rush. We join the Nahanni River and continue through Canada's three deepest river canyons, exploring and hiking along the way.
The Flat River whitewater canoe trip appeals to active people who are looking for a cooperative, though guided, river tripping adventure where the group shares in camp chores with an interest in further developing skills in camp and on the water. Participants should be prepared for three weeks of wilderness camping, be reasonably physically fit and confident swimmers. They should be able to help portage personal and group gear. Participants should be experienced whitewater canoeists and wilderness campers. This trip is lead by experienced and qualified Nahanni River guides.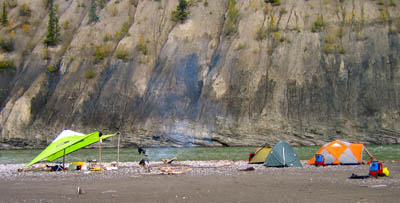 We have added special features to each of our trips to enhance your experience.
On our Nahanni Headwater 22 day Flat River Whitewater Canoe Trip we provide:
Whitewater prep day on Trout River

Road access to the start - reduced trip costs and fewer CO2 emissions

Bare wetsuits provided at no extra charge - safety first.

Screened dining tent- keep mosquitoes at bay on early season trips

Grey Owl wooden and Werner Bandit curved blade paddles- we provide the best paddle on the Nahanni

Cata-raft support - to lighten your canoe
View the "Nahanni Wild Advantage".
If you have any questions regarding this trip please contact us info@nahanniwild.com
Toll free number CANADA and USA
1-888-897-5223
Callers from outside North America please dial
1-403-688-7238